A pilot sets the air carrier on auto pilot reaching optimal conditions after take-off and setting the trajectory and coordinates for its journey. He monitors the flight without constant hands-on human control. Similarly, has the time come to automate the age old procurement systems in your organization? Across industries, organizations are faced with the fact that procurement can be a tedious process.

It involves countless man-hours, unreported data,frequent late payments, policy violations, unhappy vendors among others. They often sought out automation processes for AP which could help address and fix these problems. Procurement automation initiatives involve implementing a dynamic solution, changing internal habits, strategies, and attitudes around spend.
What drives a company to adopt automated P2P solutions?
Centralization
To have central control over purchasing
Curtail sub-optimal purchases at branches
Formal rate contracts with vendors for products and services across geographies
Requisitioning requests to deny, delay purchases
Policy Compliance
Reduce indirect or maverick spend by administering mandatory electronic approval system
Formal PO system ensuring supplier due diligence, empanelment of vendors
Avoid miscommunication between users, vendors and AP due to loss of Invoice, goods receipts, delivery and paymentpolicies
Budgeting
Accurate P&L prediction and reporting
Spend analysis and smooth audit
Historical spend data readily available without loss of man-hours
Findings from a recent survey by Paystream Advisors conducted on individuals employed in many different industries about their procurement activities, points out the key reasons for companies to automate their Procurement (see figure 1)-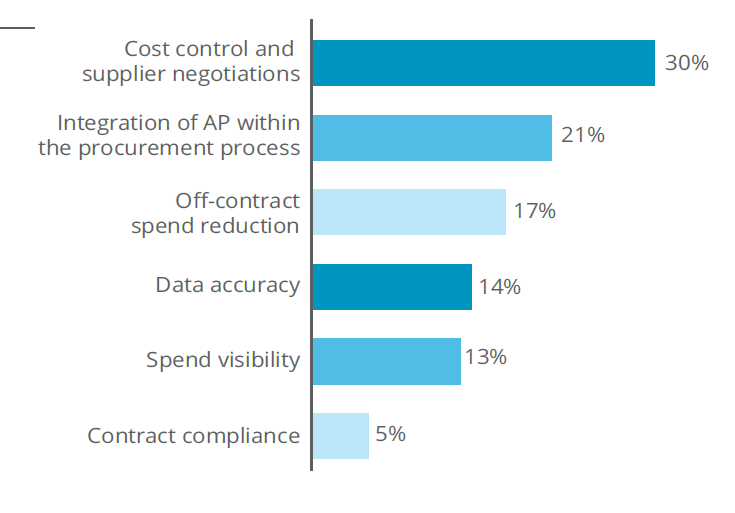 Although Procure-to-pay software fix many of the issues in today's procurement processes. Unfortunately, many companies are not using them. Among the common barriers to adoption are a lack of budget, a lackof understanding of current solutions, and the belief that current processes work.
Analysis of data variance from 2014 & 2015 by Paystream Advisors show that attitude towards this solution is changing. However, Lack of Budget rates highest as a barrier for eProcurement software.
It's important to note that as the organization adopts eProcurement software it not only implies the transition of manual process to online, but also helps transform an ineffective chaotic operation of Procurement into a strategic asset.
Download the Paystream Advisors eProcurement Report.
Connect with Expenzing to see how Expenzing's Procure to Pay Software integrates financial control with the ease.